Well here are ideas from Elmo86 about NTSD II... All this is from he, I just help him translating and posting it here:
@Elmo86

wrote:

- Kakashi Raiton Clone

A) When Kakashi copy Naruto doing clones, Kakashi will have the ability to create Raiton clones. After being beaten disappear with a wave of lightning like Chidori Nagashi (level 3) of Sasuke, this will affect the opponent causing him minor damage (you can also turn the water and take advantage of the "Elemental-system" if it fences, causing further damage).

To activate output: D + -> + J + A * With a higher cost to a normal clone.

B) Kakashi can create Raiton clones without the need to copy it before, as he does in the manga / anime.

One way to use it is first analyzes the skills and style of fighting of the enemy with a Clone (shadow or Raiton) based on the information gathered, make a strategy.

C) Have the ability to do just Raiton clones, without the restriction of having to copy them. When clone is destroyed it will create a wave of lightning that only paralyze the enemy. Provided * have copied before lightning element attack.

Personally, I like the option A because it can be combined with the shadow clones to confuse opponents. However when playing against other characters other than "Naruto" Kakashi would be unfair to waste a technique that can not be used in others.

Another advantage of using clones without copying is that Kakashi could copy up to 3 techniques with the same MP, exploiting the bug of the game.

• New idea! after testing the Christmas version of NTSD II.

D) Because Kakashi has 2 lightning attacks of their element, I think it would be a good idea to add the clone Raiton as final level of his arsenal. This clone to be destroyed (ideally his AI should be better than normal clones, for example, not simply disappear with a Shuriken or Shuriken Wind, to force to use a technical and copy) would create a wave of lightning as does the level 2 dog, but would lower half damage from this, but more than level 1. Sure if it disappears near the enemy with the ability to paralyze a few seconds, a 2 on 1 attack if opponent fences.

* Tsunade: Make an attack to confuse the enemy (nervous system), for example to change the controls and reverse combinations of attacks for a moment or to do hard for the opponent to control their character. As of 4 tails of Kiuby NTSD 2.4, which responds in the opposite direction you choose. Something like a special temporary status (LF2 snow or fire) that can limit attacks by half or only 3, 4 or less. If possible, I think it would be interesting for the game, for more details of the attack on the nerves of Tsunade see Tsunade VS Kabuto fight (when Jiraiya and Naruto will find Tsunade and Naruto learn Rasengan).

* Shikamaru: Razor Chakra-This attack is generally a capture mode and long-range, is able to throw the knife at different positions to extend the technique of shadow, and also to point directly to the opponent, the knife is not to hurt opponent, it is only to catch him, so become short attack one medium / long distance or combine it with a combo.

Weapons in NTSD II

I know the team is now focused on making techniques and create new characters for the game, but seeing how few weapons are available in NTSD II, I was thinking in some ideas.

Poison Bombs timer: Until now pumps are contact poisons, I think adding time to active them would create more strategy to the game.

Thorns on the floor: To stop opponents that run too long or keep them at bay.

Kakashi's Chain: The atack would launch a chain that would trap the contrary and Kakashi with his Raiton element will electrify it. * As happens in chapter of capture of the Hachibi when they cut his horn (Darui could also use this technique).

Temari Poison Pump: This attack is to exploit the "Elemental-system" and give the ability to Temari to move or away the poison. The technique is that Temari drops a poison bomb on the side of her and the poison spread in an area of ​​a certain size and her can throw it (move) to the opponent.

Sakura - venom and immune Healing: As you know Sakura is much better than Tsunade with poisons, so this idea is her to be immune to poison and also serve as a support and can heal other teammates. Of course, if Sakura does not execute the technique to cure poison, this will cause normal damage.

To complete the post, here is the link of the bug of Kakashi to copy more technical:

click me

And the video of the fight Tsunade VS Kabuto
Last edited by Mihdi Uchiha on January 18th 2013, 1:33 am; edited 2 times in total

Mihdi Uchiha

Konoha ANBU




Health : 31


Country

:


Posts

: 1928


Registration date

: 2011-10-13



_________________
Dead is Waiting For Me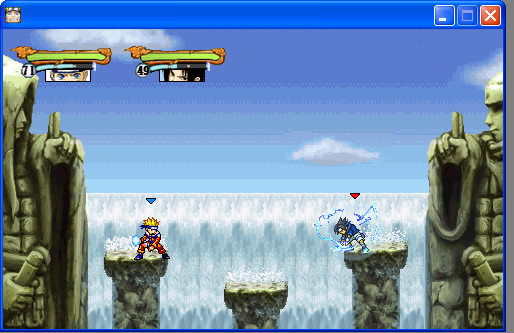 narutouchiha

Chunnin of the Leaf




Health : 23


Country

:


Posts

: 951


Registration date

: 2008-10-01



To complete the post, here is the link of the bug of Kakashi to copy more technical:
click me
And the video of the fight Tsunade VS Kabuto
_________________

Spoiler:
As long as there is people who still wont accept the death of NTSD, then NTSD will keep on living ~ lars5666
.::K E N T A R U::. wrote:Notice: Asking about updates takes away my motivation thus progress will take 5x longer to be released. Please keep that in mind next time you ask when the game/progress will be released.

Elmo86

Konoha ANBU




Health : 40


Country

:


Posts

: 1306


Registration date

: 2010-01-26



_________________
Spoiler:

colmillo

Gennin of the Leaf




Health : 3


Country

:


Posts

: 116


Registration date

: 2011-11-06




adinelson



Health : 0


Posts

: 2


Registration date

: 2013-01-06





Similar topics
---
Permissions in this forum:
You
cannot
reply to topics in this forum