Yay! My debut on One Piece sprites! 
Trying to catch up to the latest OP is such a choir. Currently at episode 150. I may have made the mistake of taking the anime course. The manga may have been a faster solution.. but well, never mind that now. I decided to sprite Luffy. Just trying to broad my spriting series'. Expect the usual variants to come soon.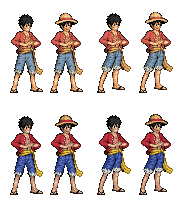 The left is my direct approach to Luffy. The right side is based off the OP: Pirate Warriors 2 render.
Top is game color palette, bottom is anime colored.
100% custom. Yes, even the scar on chest and under eye is there.
Note to self: May need to fix those hands outline to make them more distinguished from one another.
_________________
---
Permissions in this forum:
You
cannot
reply to topics in this forum